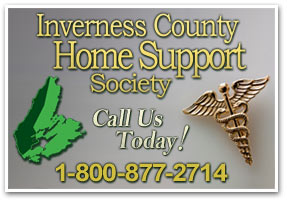 Inverness County Home Support Society delivers Home Support Services to Continuing Care clients in Inverness County. ICHSS complies with the Continuing Care mission and philosophy, goals, objectives, and policies while promoting client goals and outcomes. ICHSS meets and continuously strives to exceed the standards for delivery of Home Support services to its clients.
ICHSS provides home support services as authorized by the Care Coordinator, including meal preparation, personal care services, light housekeeping, and respite service. ICHSS provides services to approved clients, 24 hours/day, 7 days/week, including weekends and holidays.
ICHSS has an administration of (8) staff and service delivery staff of (72) Home Support Workers. ICHSS provides services to approximately (300) clients within the geographic region of Inverness County.
ICHSS is a service delivery agency for the Department of Health, Continuing Care. The agency delivers an array of home support services in a caring, professional manner to those clients assessed under the Continuing Care Program. Home support services include personal care, meal preparation, respite services and light housekeeping.
If you or someone you know is in need of our services you can contact the Department of Health Continuing Care Branch at 1-800-225-7225 for more information and or to process assessment.
JOB POSTINGS
Summer Youth Position-Administrative Support/Scheduler
– and –
Home Support Worker/ Continuing Care Assistant-Permanent Part-time Positions